This article was posted on Mar 29 2012
We are now offering a new acrylic kit, a GLITTER acrylic kit. This kit comes with everything you need including instructions. With two different colour glitters you can get started on creating some easy and fun nail art. The glitters provided can be mixed in with the acrylic powder, do this in a dappen dish and the mix of glitter to powder should be 1 part glitter to 3 parts powder. You then pick up a ball of glitter mix powder with your and apply as you would normally apply just acrylic powder. This is an easy way to create glitter french nails or you can add in a tiny bit of glitter to your final application layer to give the nails a fine glimmer effect, do this with 1/2 part of glitter to 3 parts powder.
When applying the glitter do this as your first application layer then finish with a final application all over the nail with clear powder. Once you have buffed the nail down you will quickly see the glitter shining through. To create multi colours of glitter acrylic on the nail try using a #6 round acrylic brush as this brush is small enough to create patterns in small places.
We include in this kit 1 x 5 gram White Opal Glitter and 1 x 5 grams Black Opal Glitter.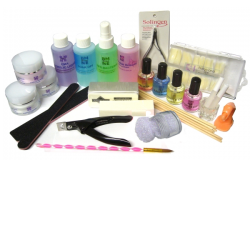 Copyright secured by Digiprove © 2012 Virginia Reali
Related posts:
A word from our Facebook Fans