This article was posted on Oct 18 2012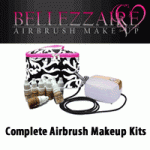 Airbrush makeup systems are no longer the exclusive domain of makeup artists, no longer are airbrush makeup kits priced beyond the reach of anyone who loves makeup and seeks to find that perfect foundation finish.
Airbrush foundation is so easy to apply, just load the gun, point and spray, it is that simple. With Airbrush Makeup you will always get a high definition finish, it easily covers blemishes without that caked on look. It feels light on the skin, you will forget that you are wearing it. Bellezzaire Airbrush Makeup dries within a second of hitting your skin.
The Airbrush Makeup range from Bellezzaire is a water based makeup product enhanced with botanicals, does not contain oils or silicone, your skin will breath and glow. Because it is water based, use a water based foundation primer, apply the primer first, also, a little concealer can be used over blemishes and under the eyes. Put 6 drops in the airbrush gun for a sheer finish or for an all over cover use 10-12 drops. It takes 1 minute to apply the foundation, another 20 seconds to apply the blusher, then another 30 seconds to give the airbrush gun a good clean so it is ready to go.
No blending, no tide lines, just perfection. You use less foundation than you would applying a normal foundation with a sponge or fingers, but you get a professional high definition finish with airbrush foundation, no need for finishing powders, if you prefer use a finishing spray to set it. Airbrush foundation will look fresh on your skin for 10-12 hours.
With the Bellezzaire kit you get four foundations to suit your skin colour range and you can mix any of these colours to get your perfect shade and by doing this you will know exactly which colours to repurchase. Bellezzaire have foundations for fair, medium, olive, tanned and dark skin colours. Your first kit comes with a compressor, airbrush gun, five foundations, one blusher and one bronzer plus a makeup bag to keep your foundations in and airbrush cleaner. Easy to follow instructions make the whole process a breeze. The system is portable so you can take it anywhere.
Related posts:
A word from our Facebook Fans